Kirino Ranmaru (霧野蘭丸) is a supporting character in Inazuma Eleven GO and later on, in Inazuma Eleven GO Chrono Stone. He is a defender of Raimon.
Appearance
Edit
He has bright rose pink hair tied into two tails and light green-blue eyes. Kirino wears the new Raimon soccer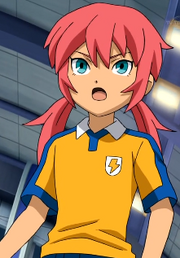 uniform, the Raimon soccer jacket and the Raimon school uniform. In a flashback, he was seen wearing the Raimon second team uniform.

In Episode 14, in his first appearance dressed in casual clothes, he wore a white-collared green T-shirt over a dark gray shirt. This is followed by tan pants and sneakers that are coloured dark red, black, and white.
Personality
Edit
He is Shindou's close friend and is shown to be caring and concern about Shindou, especially during the incident where Shindou fainted from exhaustion and ended up in a hospital.
In his concern, Kirino spent the entire time in the hospital with the other Raimon members while they waited for the outcome and the result of Shindou's surgery. He seems to have a rivalry relationship with Kariya Masaki. He doesn't seem to like rough-style playing, such as Kariya's style of play soccer.
In Episode 18 of Chrono Stone, he's also shown to be somewhat jealous of Shindou, stating during a flashback "But I was always the one chasing after you... even now, I still look at you from behind.". He is seen standing in dismay and shock after Endou Daisuke doesn't pick him for the final Ultimate Eleven. However, Kariya gives up his place for Kirino after feigning a stomachache, implying that Kariya and Kirino have gotten much closer.
Plot (GO)
Edit
Start
He appeared in GO movie.
He, along with Raimon have a match against Unlimited Shining. He used Deep Mist, but failed against Hakuryuu's shoot. He badly injured along with the defense.
After being reunited with the coach Endou and his old teammates, Fubuki, Kazemaru, Fudou and Kabeyama, Kirino, alongside with Shindou and Kurumada went training with Kazemaru.
During the match against Team Zero, he was also easily beaten by Team Zero's members but during the second half, he along Kariya were able to block Rinne's keshin using Deep Mist and Hunters Net.
Later at the end of the match, he shook hands with Rinne Makoto.
In the crossover movie between Inazuma Eleven GO and Danball Senki W, Kirino is seen playing with New Inazuma Japan against Endou's Inazuma Legend Japan.
Inazuma Eleven GO
Edit
Inazuma Eleven GO Chrono Stone
Edit
Inazuma Eleven GO Chrono Stone
Edit
Inazuma Eleven GO Chrono Stone
Edit
Hissatsu Tactics
Edit
Inazuma Eleven GO
Edit